Water Damage in Dallas
Weather Alert: If you are experiencing storm damage from tornadoes or severe weather, call us today for emergency assistance! 
911 Restoration of Dallas
Among all the forms of property damage, none is as common yet devastating as water damage. From a leak in a basement to a broken hose connected to an appliance water damage can strike subtly or aggressively. Regardless, the water damage still brings structural damage, damage to your belongings, and if left unchecked can create a perfect environment for mold to breed. Call us at (972) 217-8245 and allow us to offer you a free visual inspection.

If you are dealing with extreme weather, and need disaster restoration for your property, call 911 Restoration of East Dallas now. We are available 24/7 for all of our Dallas neighbors.
The key to mitigating the impact of water damage is to respond quickly and effectively. At 911 Restoration, we understand that, which is why our team is available 24/7/365 to respond to your call. We promise to be there within 45 minutes of your call ready to get to work.
At 911 Restoration of Dallas, we offer a Fresh Start with our comprehensive selection of property damage restoration services, including but not limited to:
Professional Mold Inspection & Sampling
Free visual inspection for property owners only
Same Day Service
Nationwide restoration resources
IICRC Certified
Licensed, Insured, Bonded
Local operation
And more
Whether you're a Dallas homeowner or business owner, 911 Restoration of Dallas is your Fresh Start! We'll communicate with you throughout the entire process, help answer questions related to insurance, and restore your property to its pre-damaged condition. One of our IICRC-certified teams is dispatched within 45 minutes of your call! Contact us today, and one of our friendly representatives will assist you in finding the nearest Dallas location.
Water Damage Restoration
Water damage restoration in Dallas is much more than simply removing standing water. Our certified technicians start with a visual inspection so we can advise you of the best plan of action. No matter the source of water damage, we have you covered.
We will assist you with the following water damage problems:
Pipe bursts

Storm damage and flooding

Hose ruptures on water-based appliances

Fire sprinkler malfunctions

Sewage backups
And More
Our team uses the latest techniques and equipment when handling your water damage restoration. Once we are ready to start working, we use a combination of water extraction and drying to get your property dried out. After that is completed, we start working on repairing what was broken along with what was damaged to give you a full and comprehensive restoration.
Always remember that speed is the key with water damage. Thanks to our many years of experience we know exactly how much time it takes for mold to grow, which is why we work quickly to prevent mold as well as prevent recurring mold.
If you're suffering water damage, don't wait to call us at 911 Restoration of Dallas at (972) 217-8245 so we can begin your water damage restoration in Dallas immediately. Everyone deserves a Fresh Start.
Service area map
Mold Removal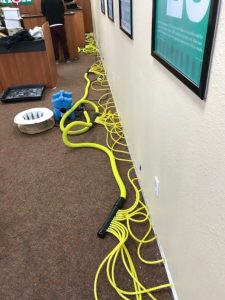 Although mold is subtle, it's still capable of damaging your property in a considerable way. Even excessive humidity in a dark room can cause mold, and this is not even including when water damage in Dallas comes into play. As mold grows it spreads out further and further. Once the amount of mold is large enough it can start eating away at the organic materials that make up your property creating a great need for mold removal. That's why our technicians look for classic mold signs like rotting or crumbling drywall plus a pungent and stale odor in our visual inspection.
Besides property damage, mold can also cause health problems ranging from breathing problems to headaches and coughing. Due to potential health problems, we use only the latest in containment measures to prevent further spread through airborne mold spores. We also have a large network of hygienists we work with that can do testing to determine if the mold is toxic.
If you suspect mold, call 911 Restoration immediately at (972) 217-8245. Dallas Mold removal needs to be handled promptly to mitigate the impact. Let us help you get your Fresh Start easier.
Sewage Backup Cleanup
Besides the water damage, as a property owner, you also have to be aware of the contaminants within the sewage that makes the backup such a hazardous situation. Sewage water is also known as black water, which is a class 3 substance. That's why no matter what you should not let any part of your bare skin touch the sewage. Use every effort possible to get the backup contained and get professionals out to handle your cleanup.
A toilet overflow due to built up pressure in the sewer system is the most common source of a sewage backup. If you're noticing that your toilet is not flushing properly, you might be at risk of an overflow. If the overflow occurs, get the team at 911 Restoration of Dallas out as soon as possible.
Due to the hazardous material, we use hazmat gear in our sewage restoration efforts. We also use industrial grade detergents to disinfect the area combined with advanced water extraction equipment to ensure that your home is safe. 
Don't wait to call us if you're suffering from a sewage backup. A fast response gives you the best chance to complete your cleanup without excessive water damage or the need for mold removal services. Claim your Fresh Start today!
Fire and Smoke Damage Restoration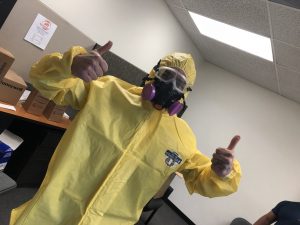 For immediate and potentially life-threatening damage, there is no property damage as devastating as fire damage. Fire spreads and keeps growing as long as there is oxygen to feed on. That's why in the event of a fire, calling the fire department is your first call. Fire damage restoration cannot begin until the fire is stopped.
Once the fire is put out, get the crew at 911 Restoration out so we can begin working immediately. Our trained and IICRC certified experts are fully qualified to help you with your water and fire restoration Dallas. Our customers benefit from the following when they call us:
Free fire damage assessment
Complete property restoration

Free insurance consultation
And more
If you have suffered fire damage, don't hesitate to call the team at 911 Restoration. We will handle all aspects of your emergency restoration so that you can have the Fresh Start you deserve.
Disaster Restoration
For a property owner, a disaster can strike at any time. Because disasters often involve different types of damage ranging from water damage to fire damage and more we employ a comprehensive disaster restoration approach to address all of your restoration needs.
In addition to our restoration services, we also walk you through the insurance process so you can get the relief you need. Our years of experience has allowed us to work with every insurance provider to get you the best relief possible with your insurance claim. If you decide to do so, we can even file your insurance claim for you.
If you need Texas disaster restoration, call the crew at 911 Restoration of Dallas immediately. We will get you back on your feet as part of our Fresh Start guarantee. Call us at (972) 217-8245 and see how we can help.
Sanitization Services & Disinfection Solutions
The coronavirus pandemic has reached a worldwide status that affects every single business and person. Now more than ever, it's important for everyone to do their part in keeping people safe. The first step in this task is to ensure everyone maintains their personal hygiene.
For property owners, they have a responsibility to contribute further. This situation requires the use of professional services to ensure their buildings remain sanitized according to the latest protocols. Adhering to these protocols will ensure the people who come and go continue to remain as protected as possible. That's why 911 Restoration of Dallas is ready and willing to provide sanitization services along with various disinfection solutions for both residential and commercial properties. Each of our technicians adheres to the latest training to maintain full compliance with all current CDC and EPA protocols in an effort to provide optimal results with our sanitization services. You deserve to have optimal health and well being. With us, you can count on the peace of mind you need.
Serving the communities of Canton, Cedar Hill, Dallas, DeSoto, Lancaster, Ennis, Fair Park, Garland, Grapevine, Kaufman, University Park, Red Oak, South Dallas, Terrell and surrounding areas.