Water Damage Dallas
911 Restoration Dallas
Water damage is an issue that can spread quickly from a pipe burst or flood, and it needs to be handled as soon as possible by the water damage Dallas professionals from 911 Restoration Dallas!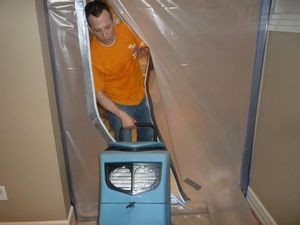 We're available 24/7/365 to assist you with our expert water damage repair and restoration services whenever a flood is causing trouble at home.
In all matters related to water damage, we're licensed, insured, and bonded to perform disaster restorations.
Whenever mold starts growing, the fire sprinkler floods your home, or when the toilet overflows, we provide only the highest quality level of repair and restorations.
We want to make sure that any further complications brought about by a flood are stopped right away. When you call 911 Restoration, you can expect us to be there within 45 minutes of your call.
Through our lighting fast response, we can begin repairs and restorations right away.
If your home or office has already been through any kind of disaster, then don't wait another minute to contact our water damage restoration Dallas team with 911 Restoration Dallas for immediate assistance today!
Water Damage Restoration
Our team has undergone rigorous training and is IICRC certified to handle water mitigation services. We know how to handle all kinds of water emergencies because we've dealt with all of them throughout our years of experience.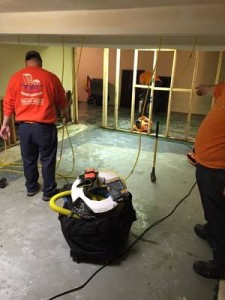 You can expect us to assist you with issues such as:
Pipe bursts
Storm damage and flooding
Water heater failure
Hose ruptures on water-based appliances
Fire sprinkler malfunctions
Mold growth
Sewage backups
Fire damage
Once our team arrives, you can expect a free inspection and estimate that will help us determine the extent of the damage and help us determine the price most affordable for you.
If your home or business has recently been through a pipe burst or any other form of flooding, then contact our water damage restoration Dallas experts with 911 Restoration Dallas today!
Sewage Backup Cleanup
Whenever you need sewage water extracted, the water damage Dallas experts from 911 Restoration are always ready. Black water is filled with all kinds of harmful elements that can damage your home and can lead to serious medical conditions.
Fortunately, 911 Restoration has the equipment and training to handle these emergencies with ease.Our team will be wearing protective hazmat suits while working on the issue.
We will be making use of advanced drying technology to ensure that all traces of sewage water are removed from your home. Afterwards, we will be sanitizing the area using industrial strength cleaning solutions that can kill harmful bacteria without causing any further harm to your home's interiors.
When the area is sufficiently cleared of sewage water, our team of IICRC certified sewage backup cleanup Dallas technicians with 911 Restoration Dallas will be performing the restoration work that will provide the affected sections of your home with a much needed fresh start today!
Fire and Smoke Damage Restoration
Fires are among the most destructive emergencies that can befall your property. While the damage might seem irreparable, 911 Restoration has the training and tools to get your home back to immaculate condition.
Our fire damage restoration experts will be providing your home with a comprehensive restoration plan that will cover all aspects of fire damage. You can expect our to perform the following services:
Ash water extraction
Immediate removal of smoky odors
Smoke, soot, and ash removal from walls and vents
Cabinet and furniture restorations
Document restorations
Full property restorations
With our comprehensive approach to fire and water damage, 911 Restoration is your go-to company for immediate disaster repair and restoration.
Whenever your home is inundated by mold growth, sewage backups, pipe bursts, and fire damage, 911 Restoration will deliver the fresh start you need right away.
Don't let a recent fire ruin your perfect home or business location. Contact our fire and smoke damage restoration Dallas team for the best services in the industry today!
Disaster Restoration
As you can see, there are plenty of ways in which damage can be inflected on your home. You can always depend on our disaster restoration Dallas team to get you back on the fresh start you need. They are an all-in-one solution to water damage that can get you out of any hiccup.
Their know-how extends far into flood damage restoration, emergency board up, soda blasting, odor removal, and reconstruction. They are also part of a sophisticated network of home disaster masters, that have nationwide support with the benefit of mom-and-pop attention.
911 Restoration Dallas cares about you, and your well being, so give our disaster restoration team a call.
Mold Removal
Prolonged exposure to moisture due to a leak will eventually lead to mold growth.
Mold can spread quickly and can spread spores within 24 hours after excess moisture enters a section of your home.
These spores can set off health conditions such as skin allergies, asthma, and coughing so mold removal is best dealt with by professionals.
To make sure that the problem is thoroughly dealt with, 911 Restoration will be providing a free visual inspection that will help us determine the source of the water damage and the area where mold has started to grow.
This will help your avoid any future instances of fungal growth within your home.
Once we've isolated the mold growth within your home, we will be applying our mold remediation techniques to get remove mold and cleanse the air of spores that may have started to spread.
Detecting a musty smell in the air or your property could mean that you already have a mold contamination afoot, and you should contact our mold removal Dallas team with 911 Restoration Dallas for help today!