Commercial Restoration
Commercial Restoration
Commercial property damage can shut down businesses and end up costing property owners dearly. Hurricanes and high winds can severely damage buildings around Dallas, leading to floods and harm to both the interior and exterior of your property. Fires, plumbing emergencies, and mold growth can also have serious impacts on your business's bottom line if you don't address them immediately.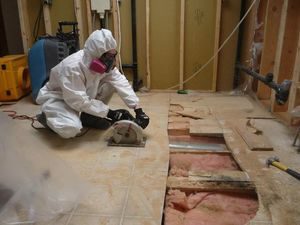 911 Restoration of Dallas can take care of any disaster restoration services you need after a natural or man-made emergency. A skilled emergency restoration team can take care of everything from soaked carpets to severe damage to your property. Getting professional help right away can increase the chances that you'll be ready for business again quickly, which is why 911 Restoration of Dallas promises to reach customers throughout the Dallas area within 45 minutes.
You need help from a full-service emergency restoration service in the aftermath of any emergency. Our technicians can handle natural damage from storms and flooding. We also specialize in emergencies caused by burst pipes, sewage backups, and fires.
Getting professional emergency restoration services on site right away is vitally important after a disaster. You can rely on a team of IICRC certified professionals to bring out top-of-the-line equipment to take care of issues like commercial water damage restoration in Dallas so that your property cannot suffer from further damage. 911 Restoration of Dallas offers free consultations only for property owners around the clock so you can start getting help right now.
Get Help from a Restoration Company in Dallas
You lose revenue every minute that your property is shut down due to damage from a storm, flooding, fires, or mold. Getting your property back in order can require extensive work that 911 Restoration of Dallas can accomplish. Our professional technicians have years of experience handling:
Water Damage Restoration
Water damage restoration is a multi-step process. Depending on your situation, you may require services such as water remediation or removal. We use professional-grade equipment to handle carpet water damage and to dry large flooded spaces.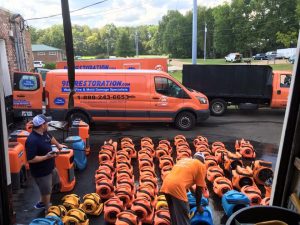 After water removal, your property can be restored to pristine condition. You may need more extensive services if you require sewage cleanup. Flooding can bring sewage into your property, along with other contaminants. It is important that all water is cleaned up and removed, as even small amounts of laying water can lead to damaging mold growth.
Fire Damage Restoration
Fire damage restoration in Dallas can be especially complicated, as flames leave behind lingering smoke and soot. You can count on 911 Restoration of Dallas to handle smoke removal and odor removal for your property. We offer direct insurance billing so the disaster restoration process can move forward in a stress-free environment.
Mold Decontamination
Mold may not seem as dramatic as rising flood waters or a raging fire, but it can cause extensive amounts of damage if it is allowed to grow unchecked. Mold spores take advantage of moist conditions caused by water leaks or flooding, and they can spread into your walls, ceilings, and anything stored in your property.
Commercial mold remediation in Dallas should be taken very seriously, as mold can cause health issues in individuals exposed to it. Our technicians can begin structural drying and dehumidifying as soon as possible, to reduce the risks associated with mold growth throughout your property.
911 Restoration Can Clean Up Your Commercial Property
Effective disaster cleanup takes experienced technicians, cutting edge equipment, and dedication to the needs of the customer. We take on every disaster restoration case by first assessing your unique needs so thatyou can get the services you require to get everything in your property back to normal. Depending on your circumstances, our technicians may take care of: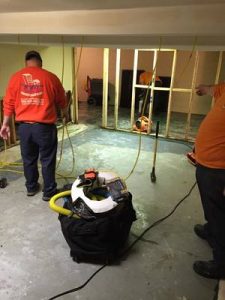 Packing Out Undamaged Supplies

        Listing Inventory and Lost Items

        Emergency Boarding Up or Roof Repairs

        Evaluating Structural Damage
You deserve comprehension damage restoration services after any kind of disaster. Disaster restoration typically first involves removing problem elements. You can rely on 911 Restoration of Dallas to take care of:
        Water Removal

        Odor Removal

        Smoke Removal

        Mold Removal
Once all damaged portions of your property have been taken out, we can get to work on the restoration process. Complete restoration involves returning your property to a condition that is better than new so that you are ready to get back to the normal operation of your business. 911 Restoration of Dallas's main goal is always making sure our customers can't even tell that they faced a fire, flood, or mold emergency. Get the help you need to recover from a water restoration company operating right here in Dallas.