Mold Removal Ennis
After water damage has affected your home, it becomes susceptible to experiencing mold growth– something that the mold removal Ennis pros at 911 Restoration Dallas know exactly how to mitigate.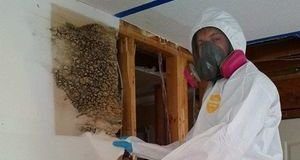 We want to make it easy for you to make an appointment with our mold removal Ennis crew, so we stay available 24/7/365.
It is important to contact us the moment you start noticing any signs, which are not always what you expect. Sometimes you may see the signs on your property, while other homeowners might feel the effects of substance.
Our IICRC certified mold removal Ennis unit is qualified to provide you with comprehensive services that address both the mold growth and the water issue that may be causing the infestation.
Cleaning up the mold and the source of the problem is the best way to prevent fungus from regrowing in the future, which is why we are licensed, bonded and insured to also provide you with water damage restoration. Call us as soon as you begin noticing signs if mold, fungus and mildew and we will go the extra mile for you and your home.
Our Fungus Removal Pros Will Keep Your Health In Tact
Like I mentioned before, mold can show itself in many different ways. The most common way is to see the growth with your own eyes, which usually looks like dark patches that have accumulate in different areas of the home.
Our mold removal Ennis techs want you to be aware of the feelings you may be experiencing if you are exposed to prolonged spore inhalation, which may include:
Wheezing

Asthma

Coughing

Headaches

Sneezing

Itchy eyes

Skin rashes

Respiratory Issues

Sinus Problems
Other times, homeowners may physically feel the signs of mold before they ever lay eyes on the substance. If you begin noticing allergy-like symptoms once you enter your home, then you probably have fungus living with you.
Even though you may hire us for a mold removal job, our main goal throughout this entire ordeal is to keep you and everyone living under your roof safe from the toxicity that fungus can bring.
Call our mold removal Ennis experts today and we will get your home's cleared of any harmful mold substances that may be living inside.
Our Mold Cleanup Techs Excel At Providing You With Excellent Customer Service
The most important thing for us to accomplish when we are called to control a fungal infestation is to get your emotional wellbeing under control.

We know this can be a very overwhelming time, and once we arrive on the scene we will do whatever it takes to keep you calm and reassure you that everything is going to be okay.
By promptly beginning clean up services, our mold removal Ennis professionals hope to show you that we are dedicated to getting your home sanitized and safe for you to live in.
Our quick, thorough techniques clear away all traces of mold, as well as prevent the substance from growing back and affecting your family all over again.
Call our mold removal Ennis team at 911 Restoration of Dallas today and you can be sure that you and your home will be given a fresh start once we are finished.