Water Damage in Lancaster
Dallas is prone to experiencing volatile weather throughout the year. The winter and spring are the most severe months, with freezing rain, tornadoes, and thunderstorms. When seasons are filled with torrential rain, lightning, powerful winds, and hail, the chances of experiencing water damage in your property become quite high. Fortunately, the technicians at 911 Restoration of Dallas are available 24/7/365 to provide water damage restoration in Lancaster. Our repair techs understand that it is crucial to respond quickly to water emergencies, which is why they guarantee to arrive within 45 minutes of receiving your call.
When you need speedy water damage repairs, 911 Restoration of Dallas will provide you with same-day, water clean up services.
Property owners will receive a free visual inspection that allows technicians to determine the extent of the water damage and formulate an estimate.
Customers can completely trust that that they are in the best hands when they work with 911 Restoration of Dallas. We employ IICRC certified technicians who are trained to administer leak and flood cleanup in both residential and commercial properties.
Our entire water damage restoration company is licensed, bonded, and insured for the protection of each and every customer. We want you to feel totally safe when you hire our team.
Our repair techs will give your property a Fresh Start after it has been affected by a house water leak, sewage overflow, or flood damage. So, call 911 Restoration of Dallas when you feel the impact of a rainstorm, or any other water disaster, today!
Mold Is A Common Byproduct Of Water Damage
Springtime can bring some of the most extreme weather to Lancaster. The thunderstorms generate heavy rainfall in the warm weather, creating the perfect environment for mold to grow.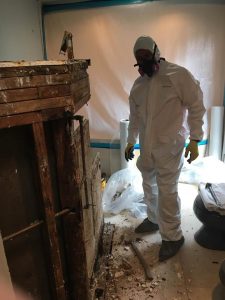 By getting our technicians on the scene as soon as you notice signs of water damage, they can get a jump on any potential mold problem. When repair techs administer emergency flood cleanup in Lancaster, they will also check for mold and mildew.
Drying and dehumidifying procedures are an integral part of water damage restoration. By getting the property as dry as possible, the technicians will create an environment not conducive to mold development.
Different types of mold can cause various health issues to those inhaling its spores. Technicians want to be sure that there is not a toxic strain living in your property.
Customers can rely on the repair techs to take professional mold samples. A third-party laboratory will then test the samples to determine the species in your home or business.
Customers can feel confident that our technicians will implement mold and flood cleanup services. Not only will they conduct thorough water cleanup procedures, but they also will remove every trace of the mold.
Call 911 Restoration of Dallas when you need water mitigation and mold removal. Our experts will give you the peace of mind you need knowing that they can handle every aspect of your water damage situation.
Customer Satisfaction Is The Most Important Part Of Water Damage Restoration
As essential as it is to get your property cleared of all instances of water damage and mold, it is equally vital to 911 Restoration of Dallas to make sure that your wellbeing is intact as well.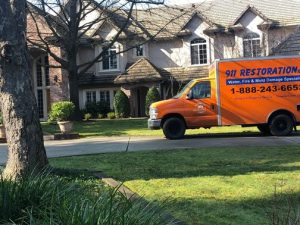 Our entire staff emphasizes customer service, something that all of our technicians take great pride in.
911 Restoration of Dallas wants its customers to know that they are always available to help them, day or night. Whether you need us to fix a ceiling leak or conduct emergency storm repairs, you can count on our technicians.
If you need help dealing with your insurance company, a staff member will provide you with a free insurance consultation. We will go over your policy with you to determine the full extent of your coverage.
Many customers have never had to file an insurance claim for water damage restoration. We know exactly what information your provider needs to get you the most out of your policy.
Customers can rely on 911 Restoration of Dallas to handle every aspect of their water damage situation. So, call the technicians you can trust to administer the flood cleanup you need to give you the Fresh Start you deserve!
Servicing the cities of Canton, Cedar Hill, Dallas, DeSoto, Lancaster, Ennis, Fair Park, Garland, Grapevine, Kaufman, Red Oak, South Dallas, Terrell, University Park, Quinlan, and surrounding areas.