Water Damage in Ennis
If your home or business in Ennis has been impacted by a tornado, hurricane, or any other water-based disaster, 911 Restoration of Dallas will be there to help you get through any disaster. Our water mitigation company is available 24/7/365 to provide water damage restoration in Ennis. With around the clock flood cleanup assistance, property owners can feel at ease whenever they confront water damage. Even if your property is affected by an issue other than severe weather, our repair techs are equipped to handle anything. 911 Restoration of Dallas can offer you the immediate response you need to get your home or business back in shape. They will respond within 45 minutes, day or night, to provide you with emergency water damage restoration.
911 Restoration of Dallas employs a team that is IICRC certified and backed by the Institute of Inspection, Cleaning, and Restoration. Our repair techs have years of experience administering leak repair and flood cleanup in Ennis.
The Ennis community can receive around-the-clock, water cleanup services to provide solutions to any issue you may be experiencing concerning water damage or mold.
Once the repair techs arrive, property owners will receive a free visual inspection. They will check the current condition of your property and formulate an estimate of the water damage restoration needed.
This initial survey will help the technicians determine the source of the water damage, check for mold, and figure out the best course of action to give you a complete recovery.
911 Restoration has decades of experience dealing with various water emergencies and disasters so you can expect our crew to work with speed, care, and professionalism.
Call the team you can trust to provide you with the care and understanding you need when your house gets flooded, or your business is overcome with mold. 911 Restoration of Dallas will give you the Fresh Start you deserve!
Customers Can Depend On Us To Mitigate Any Water Emergency
911 Restoration of Dallas is well aware of all the problems that water damage can present for you and your property. Our technicians are trained to provide you with comprehensive solutions to any water disaster.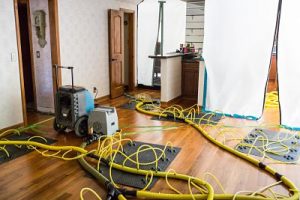 Customers can feel completely protected when they work with 911 Restoration. The entire water mitigation company is licensed, insured, and bonded to take on all water damage challenges.
The technicians we employ have undergone a rigorous training program that has given them the skills needed to administer expert leaking ceiling repair and flood cleanup services.
Repair techs will conduct water extraction, drying, and dehumidifying procedures. By getting the property as dry as possible, they will help prevent mold growth and other structural issues.
Once you contact 911 Restoration of Dallas, you can expect to receive quality, water damage restoration services in record time. We want the Ennis community to know they are in good hands when they hire us. So, call our office today to receive water cleanup and drying services from a team that cares and understands your needs.
Customer Service Is Always At The Forefront Of Water Damage Cleanup
Through our quick response time and year-round availability, 911 Restoration of Dallas will be able to address water damage issues before problems like wood rot or mold growth can start to set in.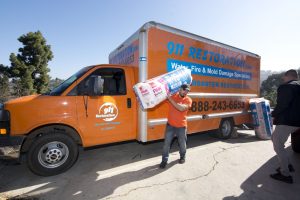 Whatever the emergency affecting your property may be, you can count on our technicians to provide water extraction and drying services with the utmost professionalism.
Keeping our customers satisfied throughout the flood cleanup process is the top priority of the repair techs. By explaining the repair procedures and providing you with all the information you need, we will make you feel calm and secure.
Many customers have questions regarding the cost to mitigate a water intrusion. Technicians can answer this by providing property owners with a free visual inspection and estimate.
911 Restoration of Dallas consistently offers affordable prices and works with all insurance companies. If you need help filing your insurance claim, a staff member will give you a free insurance consultation.
The moment you need water damage restoration, you can call 911 Restoration of Dallas. Our highly trained technicians will give you the peace of mind you need to overcome any water disaster.
Servicing the cities of Canton, Cedar Hill, Dallas, DeSoto, Lancaster, Ennis, Fair Park, Garland, Grapevine, Kaufman, Red Oak, South Dallas, Terrell, University Park, Quinlan, and surrounding areas.