Water Damage in Kaufman
Living in Kaufman can mean dealing with harsh weather patterns throughout the year. The area is prone to feeling the impact of hurricanes, thunderstorms, and tornadoes, which can all create leaks, home flooding issues, and structural damages. Whenever leak or flood damage of any kind occurs, water damage restoration should be administered right away. 911 Restoration of Dallas understands the need for speedy water damage repairs. There is a sense of urgency when dealing with moisture issues, which is why technicians guarantee to arrive within 45 minutes of receiving your call. As soon as repair techs get on the scene, they will give the property owner a free visual inspection.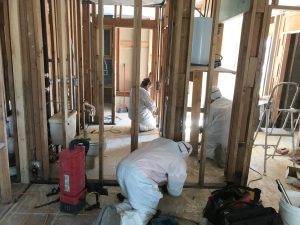 Their assessment will help technicians determine the extent of the problem and provide you with immediate water damage restoration solutions.
By reaching out for same-day, flood cleanup in Kaufman, property owners can minimize their losses, prevent mold growth, and reduce structural damages.
When customers hire 911 Restoration of Dallas, they can trust that they have the most qualified technicians on the job. Our technicians are IICRC certified, meaning they have reached the highest standards in the restoration industry.
The entire water mitigation company is licensed, bonded, and insured, giving customers peace of mind that they are completely protected under the care of 911 Restoration of Dallas.
Along with administering water extraction and drying services, technicians will also help property owners safeguard their property from any further water damage.
Customers can rest assured that our staff will do whatever is necessary to fully recover their property from even the most significant flood damage. Your property will be in good hands when you hire 911 Restoration of Dallas, so give us a call today!
Same-Day Solutions For Water Damage And Mold Problems
When multiple sections of your property are affected by water damage, it's best to let 911 Restoration of Dallas handle the situation.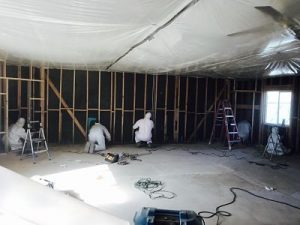 Our technicians have years of experience administering leak repairs and flood cleanup services, making us the trusted restoration contractor in Kaufman.
As a locally owned and operated restoration company, the repair techs at the Dallas branch understand how the humid climate affects homes and businesses in the area.
Under these damp, warm conditions, when water damage is created inside a structure, it can lead to mold growth in as little as 24 hours. The ferocity of mold development makes it crucial for customers to reach out for immediate water damage restoration in Kaufman.
Repair techs will provide property owners with a free visual inspection to check for any signs of mold. This survey will allow them to implement the necessary mold decontamination.
You can be sure that we will locate the source of the water damage and mold to prevent future incidents from occurring. By extracting water and dehumidifying the affected area, technicians will get your property as dry as possible.
Our team will check all the hard-to-reach areas around your home, such as the attic, air ducts, and crawlspaces. No stone will go unturned when 911 Restoration of Dallas is on the job.
Water damage is a pervasive issue that influences the entire property, even if it may only seem like a small area has been affected. 911 Restoration of Dallas wants to make sure your entire property is safe and clean for you to enjoy. So, give us a call today!
Affordable, High-Quality, Water Damage Restoration Services
When property owners call 911 Restoration of Dallas, most of the time the first thing they want to know about is the cost to mitigate a water intrusion.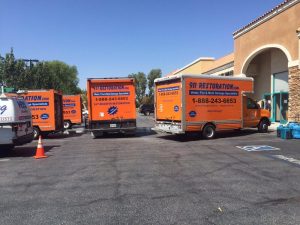 The technicians can answer this question accurately by formulating an estimate via their visual inspection. The staff understands that you want fast answers, so they will send repair techs over right away to start the process.
Once the extent of the leak repairs or flood cleanup services you need are determined, our staff can then assist you with the insurance procedures.
Many customers have never had to file an insurance claim for water damage restoration. To best serve you, staff members will provide you with a free insurance consultation.
During the consultation, we will go over your insurance policy with you to determine the coverages you are entitled to receive from your provider. We will even file your claim and bill your insurance company directly.
Customer service is of the utmost importance to the entire staff at 911 Restoration of Dallas. Let us make your home water leaks a thing of the past. Call our highly trained technicians, and they will show you what a Fresh Start looks like today!
Servicing the cities of Canton, Cedar Hill, Dallas, DeSoto, Lancaster, Ennis, Fair Park, Garland, Grapevine, Kaufman, Red Oak, South Dallas, Terrell, University Park, Quinlan, and surrounding areas.