Water Damage and Mold Removal Garland
While owning a property in the Garland area, the last thing that you expect to happen is a water damage emergency. Unfortunately, the truth is that these floods can happen unexpectedly due to heavy winds or rain, and it's important to be prepared. When a pipe bursts on your property, call the experts in the Fair Park area to take care of it in a prompt manner.

911 Restoration of Dallas has years of experience in flood cleanups, mold inspections and more. Water damage in Garland can seem like a difficult issue to overcome, but rest assured that the experts can handle it with care. The flood restoration will be carried out quickly and efficiently, and your property will be restored back to normal in no time. When you're caught in a water damage emergency and need an extra hand for a water cleanup in Garland, call 911 Restoration of Dallas today.
Water Damage Experts In Garland That Understand Your Needs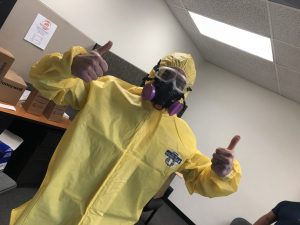 When dealing with a water remediation in the Mesquite area, you need technicians that truly go above and beyond. That's where 911 Restoration of Dallas comes in. The technicians understand the importance of timely water extraction services after property flooding. They are available 24/7/365, so you will never be kept waiting. All calls are answered within 45 minutes, so you can expect swift water removal services in Garland.

Not only do the flood cleanup techs respond quickly after any burst pipes on the property, but they go above and beyond to ensure that your needs are taken care of as well. Your emotional needs are just as important during any water remediation, and the experts understand that. They go above and beyond during any flood cleanup to ensure that all excess water is removed and your property is safe and dry.

In addition, any belongings that are not damaged after the burst pipes will be boxed and moved to the side so they can remain that way. This water damage emergency will not be the end of your property, it will simply be the beginning of a Fresh Start. The technicians are IICRC certified so they can handle any kind of water extraction that is thrown their way. For the best services in the Richardson area, reach out to the technicians at 911 Restoration of Dallas today.

Removing Mold After A Water Damage Emergency
Unfortunately, shortly after a flood on the property mold can shortly follow. It's important not to attempt to take care of the mold removal on your own, and to leave it to the experts. The technicians are trained in all types of mold inspection and have years of experience, so you can trust them to do a comprehensive check.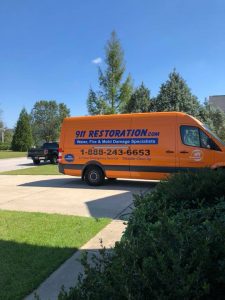 Mold remediation is an imperative step after any water damage emergency. The techs understand the importance of the removal, and arrive on the scene as quickly as possible. In addition, we have a large network of hygienists we work with that can do testing.

The experts are used to any type of mold decontamination, so there is no need to worry. They use Hazmat suits and infrared technology to get the best read possible. Not a single spore will be left on the property after the thorough mold decontamination carried out by our trained technicians.

Mold removal is a crucial step after any flood on the property in Garland that should be taken extremely seriously. Not only is it unpleasant to look at, but the fungus can lead to unpleasant symptoms. Coughing, sneezing and headaches are all common after spotting mold on the property in Cedar Hill. A mold decontamination should be carried out as quickly as possible to avoid these symptoms. As soon as the black mold is spotted, alert our remediation technicians and they will be on the scene to carry out the removal process as soon as they can.

You deserve a mold inspection team that truly understands your needs during any water extraction on the property. 911 Restoration of Dallas understands what how difficult it is to go through mold remediation and water damage restoration, and they go above and beyond to ensure that you feel at home during the process. They truly go the extra mile during any decontamination service. For the best mold removal services after any flood, call 911 Restoration of Dallas today.

Servicing the cities of Canton, Cedar Hill, Dallas, DeSoto, Lancaster, Ennis, Fair Park, Grapevine, Kaufman, University Park, Red Oak, South Dallas, Terrell and Quinlan.