Water Damage in Red Oak
When property owners are in need of flooding repair, sewage cleanup, or ceiling leak repair services, they can depend on 911 Restoration of Dallas. Their technicians are available 24/7/365, so they can help the Red Oak community around the clock. When customers call our office, repair techs will immediately respond to their water emergency. Technicians guarantee to arrive within 45 minutes, day or night, to initiate speedy water damage repairs. Our repair techs are prepared to administer same-day, flood cleanup in Red Oak. They will start by providing property owners with a free visual inspection.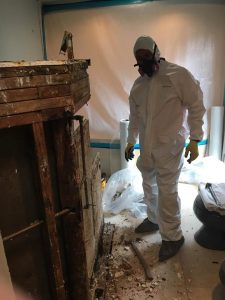 Red Oak is prone to experiencing severe weather patterns that lead to home water leaks, flooding issues, and structural damages. 
When water sits for too long, it has the potential to cause extensive water damage and even mold. To minimize the losses created in your home or business, technicians will begin water extraction and drying services as soon as possible.
Customers can feel safe under the care of 911 Restoration of Dallas. The water damage restoration company employs IICRC certified technicians who are backed by the Institute of Inspection, Cleaning, and Restoration.
Along with working with qualified, experienced repair techs, 911 Restoration is also licensed, bonded, and insured for the protection of all their customers. 
Technicians want to put your mind at ease as soon as they get on the scene. They will do so with their advanced water damage restoration skills and exceptional customer service.
Call 911 Restoration of Dallas today, and our repair workers will provide you with any leak repair or flood cleanup services you need to obtain a full recovery of your residential or commercial property.
Mold Decontamination Is An Integral Part Of Water Damage Restoration
Property owners need to reach out to 911 Restoration of Dallas as soon as they notice signs of water damage for many reasons. The invasive moisture can quickly lead to mold development and structural problems.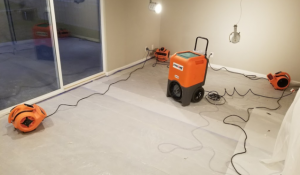 When you reach out for professional water damage restoration, you will minimize your losses and increase your chances of incurring subsequent issues. 
Technicians will begin implementing water clean up services right away, including drying and dehumidifying procedures that will limit the chances of mold growth. If mold has already started to grow, they will initiate a mold decontamination effort as well.
Hiring experts to pump invading water out of your property quickly will drastically decrease an infestation. It only takes 24 hours for spores to start developing into mature mold and fungi.
You can count on 911 Restoration of Dallas to be at your doorstep with all of the necessary gear, including hazmat suits, dehumidifiers, eco-friendly cleaning agents, wet vacs, and air purifiers, among other equipment.
By conducting fast and efficient flood cleanup and mold removal, technicians can get your property to pass the mold clearance test. So, call the team you can trust to understand what you need from a restoration company today!
A Water Mitigation Company That Puts The Customer First
911 Restoration of Dallas takes customer service very seriously. Their entire staff strives to provide the Red Oak community with the best in the restoration industry.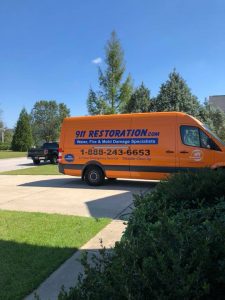 Our professionals understand just how overwhelming it can be to deal with leak and flood damage. By staying accessible to all of their customers, repair techs can guide them through the whole water clean up process.
This guidance includes a free insurance consultation. Staff members will go over your insurance policy with you to determine your coverages and help file your claim.
911 Restoration of Dallas will facilitate direct insurance billing, so you never have to worry about communicating information with your provider. Staff members want to ensure you receive affordable water damage restoration in Red Oak.
If you have any questions regarding the cost to mitigate a water intrusion or need assistance creating a lost itemization list for your insurance company, you can count on our staff to help you with everything.
Call our restoration company as soon as you need leak or flood cleanup services. The technicians will give you peace of mind by showing you that water damage can be turned into a Fresh Start!
Servicing the cities of Canton, Cedar Hill, Dallas, DeSoto, Lancaster, Ennis, Fair Park, Garland, Grapevine, Kaufman, Red Oak, South Dallas, Terrell, University Park, Quinlan, and surrounding areas.