Water Damage in Quinlan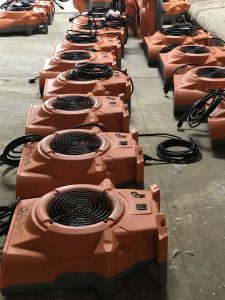 When your home or business in Quinlan needs a Fresh Start after a hurricane or pipe burst causes water damage, you can depend on 911 Restoration of Dallas to offer you professional assistance. No matter when the issue occurs, you can count on our technicians to respond quickly. The office agents are available 24/7/365 to take on water emergencies. They will dispatch technicians immediately to get them to your property within 45 minutes of receiving your call. Repair techs will administer same-day, water damage restoration in Quinlan, limiting any subsequent issues that may occur as a result of the invading moisture. Through speedy water damage repairs, we can prevent further complications like mold growth or wood rot.
Property owners will receive a free visual inspection and estimate. This initial check-up will allow technicians to determine the source and extent of the water damage.
Our specialists are trained and equipped to able to handle various water-caused emergencies, which include sewage backups, storm damage, flooding, or pipe bursts.
911 Restoration of Dallas employs IICRC certified technicians who have proved to reach the highest standards in the industry set by the Institute of Inspection, Restoration, and Cleaning.
Through advanced leak and flood cleanup services, customers can expect their home or business to look good as new. The 911 Restoration team always works with your complete satisfaction in mind.
911 Restoration of Dallas wants to make sure your property feels safe, comfortable, and free from any lingering water damage. So, call the team that cares and understands what you need from a water damage restoration company today!
Expert Flood Cleanup And Storm Repair Services
The technicians at 911 Restoration have decades of experience in dealing with the humid, subtropical climate of Dallas. The region frequently is impacted by thunderstorms, tornadoes, and hurricanes.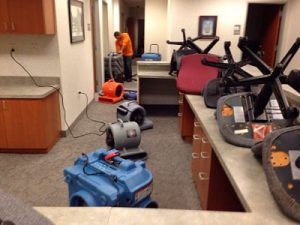 By administering water extraction, drying, and dehumidifying techniques, repair techs can completely restore your property after it has felt the impact of a storm. Our team has undergone rigorous training to provide only the highest quality water damage restoration.
When customers need flood cleanup in Quinlan, they can expect to receive immediate assistance from our trained professionals. We will never keep you waiting because we understand how quickly leaks and floods can turn into mold and structural damage.
As a locally owned and operated restoration company, our technicians fluently understand the specific issues that impact Quinlan. Property owners can feel confident in our ability to repair any water damage found on the premises.
The high humidity can quickly turn water damage into a mold infestation. However, our experts routinely check for signs of mold when they are called to implement water damage restoration services.
Call 911 Restoration of Dallas as soon as you notice signs of water damage or mold in your home or business. Our technicians will give you peace of mind that every aspect of your situation is remediated in full.
Plumbing Issues Can Also Lead To Indoor Water Damage
Along with storms and severe weather patterns, one of the ways that water damage can come into your residential or commercial property is through a sewage backup.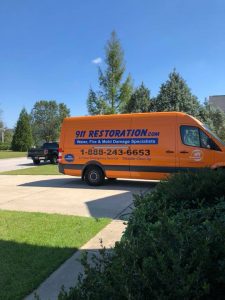 Toilet overflows are typically caused by clogging or by excess pressure buildup within the city's sewer system. When that pressure finally needs to be released, sewage can climb up into your home through a toilet.
When this kind of water emergency occurs, you should call 911 Restoration of Dallas immediately. Sewage cleanup should be administered by professionals not to put your health at risk.
Sewage can cause harm to your home and your health because of the toxins and biological contaminants it carries. Our specialists have the proper equipment to be able to restore your property and prevent the spread of disease.
Technicians wear protective hazmat suits to protect us while we work. Our advanced equipment will extract sewage out of the area and remove moisture. We will also work to repair any damage done to your property's plumbing system.
Once the area has been cleared, repair techs can begin the decontamination process. They will use industrial strength cleaning solutions that will thoroughly cleanse the affected area and remove any foul odors.
When a major disaster like a tornado, pipe burst, or sewage backup occurs in Quinlan, call 911 Restoration of Dallas for immediate water damage restoration. Our staff will be ready to take on your concerns and conduct any flood cleanup needed to give you a Fresh Start!
Servicing the cities of Canton, Cedar Hill, Dallas, DeSoto, Lancaster, Ennis, Fair Park, Garland, Grapevine, Kaufman, Red Oak, South Dallas, Terrell, University Park, Quinlan, and surrounding areas.