Water Damage in Terrell
Water disasters like flooding and pipe bursts happen quite frequently in Terrell, especially during the tornado and hurricane seasons. These circumstances can lead to extensive water damage for the property owners. 911 Restoration of Dallas is available 24/7/365 to provide emergency water damage restoration in Terrell. Repair techs will arrive within 45 minutes of receiving your call, day or night, to administer same-day, water clean up services. Property owners will receive a free visual inspection and estimate as soon as technicians get on the scene.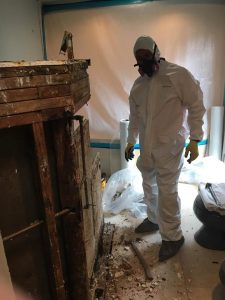 The technicians at 911 Restoration of Dallas are trained and equipped to be able to take on any water emergency impacting your home or business.
With such a quick response, not only are the technicians helping you avoid any further harm to your property, but they are allowing your life to get back on track as soon as possible.
Customers can have total confidence in our ability to restore your residential or commercial property. 911 Restoration employs technicians that are IICRC certified and vastly experienced in water damage restoration.
Once the repair team arrives, they will inspect the entire premises for signs of water damage, mold, and determine the source of the problem. This initial checkup will allow them to strategize the best course of action.
Although we are a nationwide restoration company, the Dallas branch is locally owned and operated. All of our repair techs are familiar with the specific leak repair and flood cleanup services the Terrell community needs.
911 Restoration of Dallas will get you the water damage restoration you need precisely when you need it. So, call our highly trained technicians today, and you can rest assured that they will give you the peace of mind you need.
Leaking Ceiling Repairs And Flood Damage Cleanup
Roof leaks and property floods are among the most common water damage occurrences that affect homes and businesses in Terrell. The area is prone to experiencing heavy storms, such as tornadoes and hurricanes.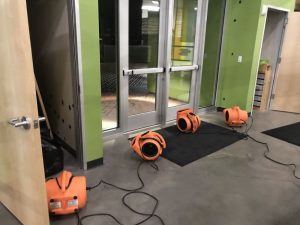 The repair techs at 911 Restoration of Dallas understand how to remediate leak and flooding issues caused by these weather phenomena. They will act with great urgency to administer leak and flood cleanup in Terrell.
Our technicians bring the necessary training, advanced equipment, and decades worth of experience to every job and are confident that they can repair any water damage situation.
Aside from the restoration services that we provide through repairs and renovations, the technicians will also offer tips that can help property owners prevent these water incidents from occurring in the future.
Make sure you clean your gutters regularly. Clogging due to leaves and debris is one of the main reasons water finds a way to seep into your home. Cleaning helps prevent this from happening by keeping water flowing away from your home.
Inspect your roof for any signs of damage. Loose, buckling, curling, or missing shingles are clear signs that your roof has been damaged. Repairing these issues early on can help you prevent leaks from occurring once it starts raining.
Check your attic insulation once a year. Excess humidity can also result in roof issues in the form of mold growth. Leaks can cause water damage throughout the property.
Even by taking all the necessary precautions, property owners may still need professional water damage restoration from time to time. Fortunately, customers can call 911 Restoration of Dallas as soon as they need leak repairs or flood cleanup services.
Providing Property Owners Water Cleanup Services With Professionalism
911 Restoration of Dallas cares about its customers' wellbeing above all, and their technicians are eager to prove their dedication. The staff has undergone rigorous training to provide only the highest quality residential and commercial water extractions.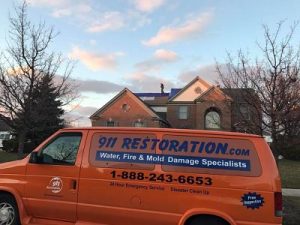 The staff works with only your satisfaction in mind. Customers can trust that our team will be able to assist you with every aspect of the water cleanup process.
When time is of the essence, and a quick response is necessary, you can count on 911 Restoration to be there. Not only will we administer expert water damage restoration, but our staff will help you with filing your insurance claim.
A team member will provide you with a free insurance consultation to make the filing process go as smoothly as possible. Not only will they submit your claim for you, but they will facilitate direct insurance billing.
We want to get you the most out of your coverage. The best way to do that is to make an itemized list of all your losses. The technicians will help you take inventory for your insurance provider.
Call 911 Restoration of Dallas to receive fast and efficient leak and flood cleanup services from a team that cares and understands your needs. Customers can trust that our repair techs will give you the Fresh Start you deserve!
Servicing the cities of Canton, Cedar Hill, Dallas, DeSoto, Lancaster, Ennis, Fair Park, Garland, Grapevine, Kaufman, Red Oak, South Dallas, Terrell, University Park, Quinlan, and surrounding areas.