Fire, Water, and Mold Damage from Dallas Winter Storms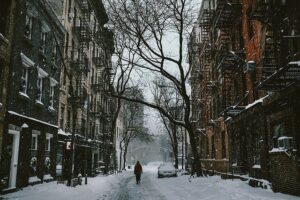 A winter storm may range from mild snow for a few hours to a blizzard that lasts for a few days. Winter storms affect several states, so it's important for people in these regions to be aware of what they might face well in advance.
Winter storms are common in Dallas. It is important for homeowners to be prepared for this to mitigate the damage done to their property. Dallas winter storms can pose a risk of fire, water and mold damage to the homes of inhabitants of this city.
Before we tread further, let's look at how Dallas winter storms can lead to the above-mentioned damages and how homeowners can safeguard their homes against these detriments.
Fire Damage
Just a few days ago, a news article reported that 10 people died in Texas as a result of house fires during a winter storm.  You'd be surprised to know house fires are more common in winter than summer, mainly due to improper heating inside homes. Due to winter storms, people stay inside homes and use house fires. Often, these fires are left unattended, and this can pose a risk of fire in homes.
Winter storms will cause a build-up of snow on your roof. If this isn't cleaned, the snow will end up blocking your chimney. When your chimney is blocked and you light up a house fire, you not only incur a risk of carbon monoxide poisoning but could also pose a serious risk of fire.
How to Prevent Fire Damage?
If you want to prevent fire during winter storms, you should make sure you clean your roof with a snow rake and unclog your chimney after a winter storm. If you let the snow sit on the roof for too long, you know you incur a risk of fire.
Along with this, you should also exercise caution when using heating elements inside homes. Do not leave fireplaces unattended, especially when you are going to sleep. Make sure you have a fire exit plan in your home and have a smoke detector installed as well. You should also keep in contact with a fire damage restoration service in case.
Water Damage
Water damage is the most common cause of winter storms in Dallas. After a winter storm, it is possible that a lot of snow will accumulate on the roof. Eventually, the snow will start to melt and lead to roof leaks. This water seepage into the basement will cause cracks in the walls. Moreover, roof leaks also incur the risk of flooding in homes.
Cold temperatures during winter storms can cause the water inside pipes to freeze. More pressure will then be exerted, which then leads to the possibility of a pipe burst. Pipe bursts will cause flooding, especially in the basement. This will lead to serious water damage.
Due to the winter storm, snow, ice and debris will clog the gutters that carry water away from the house. When snow outside the house starts to melt, the freezing ground does not allow for water absorption. So the standing water meanders through pathways into the house, leading to flooding. Standing water near the house will also damage its foundation.
How to Prevent Water Damage?
Water damage can be quite extensive, which will require water damage restoration. To avoid it, or at least mitigate the damage, you should regularly clean your roofs to prevent the accumulation of snow. Make sure you analyze the roof for any cracks and also analyze the walls of the house, especially the basement. These cracks could mean water seepage into the house.
During winter season, you should also inspect and unclog the gutters so water does not keep standing at one spot. You should manually move ice from the house to prevent the melted snow from entering the house or garage. Homeowners can also insulate exposed pipes so the water does not freeze and end up in a pipe burst.
Mold Damage
Most people make the mistake of thinking mold does not occur during low temperatures. However, this is untrue. During winter storms, people living in Dallas will naturally have heating systems inside the house. The difference in temperature from inside and outside will result in condensation. This lingering moisture and high humidity levels inside the house will create the breeding ground for mold.
Water damage that occurs due to winter storms also causes mold growth. When moisture lingers, mold spores quickly begin to form in just 48 hours! Mold will prey on organic materials like wallpaper and hardwood floors, and this will incur added expenses for you.
How to Prevent Mold Damage?
Mold damage is a common byproduct of water damage. To prevent this, you should first try to stop water damage from winter storms. If you live in Dallas, where winter storms are a common occurrence, you can invest in waterproof material for those areas that are most prone to moisture. This way, you'll be able to mitigate the chances of mold growth.
Make sure there is sufficient airflow and ventilation in the house as high humidity also leads to the birth of mold. If you do spot mold in one part of the house, it is very likely that mold exists in other parts of the home as well. Mold infestation should not be ignored, and you should avail mold removal and remediation services.
Disaster Restoration
People living in Dallas should have a home restoration company's number since winter storms are a frequent occurrence in this region. If you experience fire, water or mold damage after a Dallas winter storm, you should get in touch with 911 Restoration of Dallas.
This restoration service has an emergency response time of just 45 minutes to contain the damage in time. They offer fire damage restoration, water damage restoration and mold removal and remediation services to homeowners of Dallas.