Sewage Backup Cleanup Dallas
Eliminating the damages caused by a category three water exposure is not easy, and that's why you should hire the sewage backup Dallas crew with 911 Restoration Dallas in order to have it handled properly and quickly too.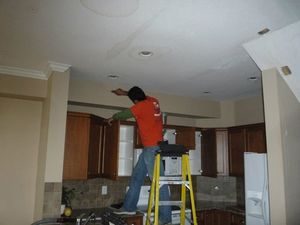 We have been providing solutions to the sewage backup challenges in the Dallas area for long enough to know that the best way to mitigate the damages that these events cause is to get there within 45 minutes of a call for help.
In addition to our ability to be at the site rapidly, the sewage backup Dallas experts are also available 24/7/365 to solve any kind of challenge that comes up at all times of the day or night.
If your home is amid a sewage backup situation, and you only trust your home with the best in the industry, then contact the sewage backup specialist with 911 Restoration Dallas today!
Tips and Expert Advice to Avoid a Category Three Water Contamination
When it comes to sewage backup situations, there is no one more experienced and adept at providing quality solutions than our sewage backup Dallas team.
This is why they are regularly tapped for their expertise and know how in prevention measures for category three water damage contamination.
We like to help people to avoid water damage and especially category three water damage and contamination because this is the most hazardous to people's health and well-being.
Make sure your sewage back flow valve is in proper working condition at all times of the year by inspecting it yourself or having an expert come and do a checkup.
Never flush anything down your system that it was not intended to receive. This can mean everything from wet wipes to chew toys.
Check to make sure that your sump pumps are in perfect working condition every year before the rainy season starts.
If you do have a plumbing issue, make sure you can easily turn off the main line to your home so that you can stop any flooding yourself from expanding.
If you have a category three water situation rising in your home, then don't wait another minute to contact and the sewage backup team with 911 Restoration Dallas today!
Septic Field Backup Floods First Floor
When we take on a job, we make sure that our sewage backup Dallas crew is fully prepared with all of the equipment that they will need to take care of the property, but also the skills needed to take care of the property owner too.
Our team eliminated the dirty water, and then they sourced the origin point of the clog and backup, fixed the system and began the dry out process.
If your home is amid a category one, two or three exposure situation and you want the best in the business to take on the challenges for you, then contact the sewage backup Dallas team with 911 Restoration today!